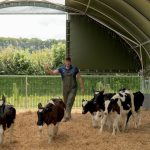 Modern calf housing. Simple to deploy and easy to manage the Agri Span™ creates a dynamic space for high-welfare calf housing.
An advanced storage shelter spanning two shipping containers, ideal for protecting machinery, vehicles, feed & produce
We work with agricultural businesses, enabling them to deliver high quality, high value produce. Our buildings are simple to deploy and easy to manage, creating dependable, sheltered environments that promote animal health and improve working practices.
Testimonials
I needed a housing solution ASAP and the Agri Span™ fit the bill and more. The Agri Span™ keeps my calves healthy and was delivered incredibly quickly. A brilliant product and service!
Stuart Perry
Nower Dairy, Axminster
"My calves are happy and healthy running about underneath the Livestock Pop-Up. The structure is really well made and looks great on my farm. My feed representative even commented on how great it is for the calves! Planning to buy another Livestock Pop-Up in the future."
Adam Lowe
Unthank Farm
"Extremely happy with our McGregor building. We started with one and have now purchased two poultry tunnels, both have worked out really well and look great!"
Jason Bryan
Valleyview Farm
"McGregor was very helpful, delivering at short notice – The Agile layer house is excellent for small flocks"
Mick Racjan
Fungi Delecti
"McGregor provided me with housing for my goats and sheep. They kept me updated on the progress of my order. I received the kit for 2 Livestock Pop-Ups in batches to allow us to get started with the build and followed through in perfect time with the remaining parts."
Julie Comins
Elchies Estate Limited
Projects