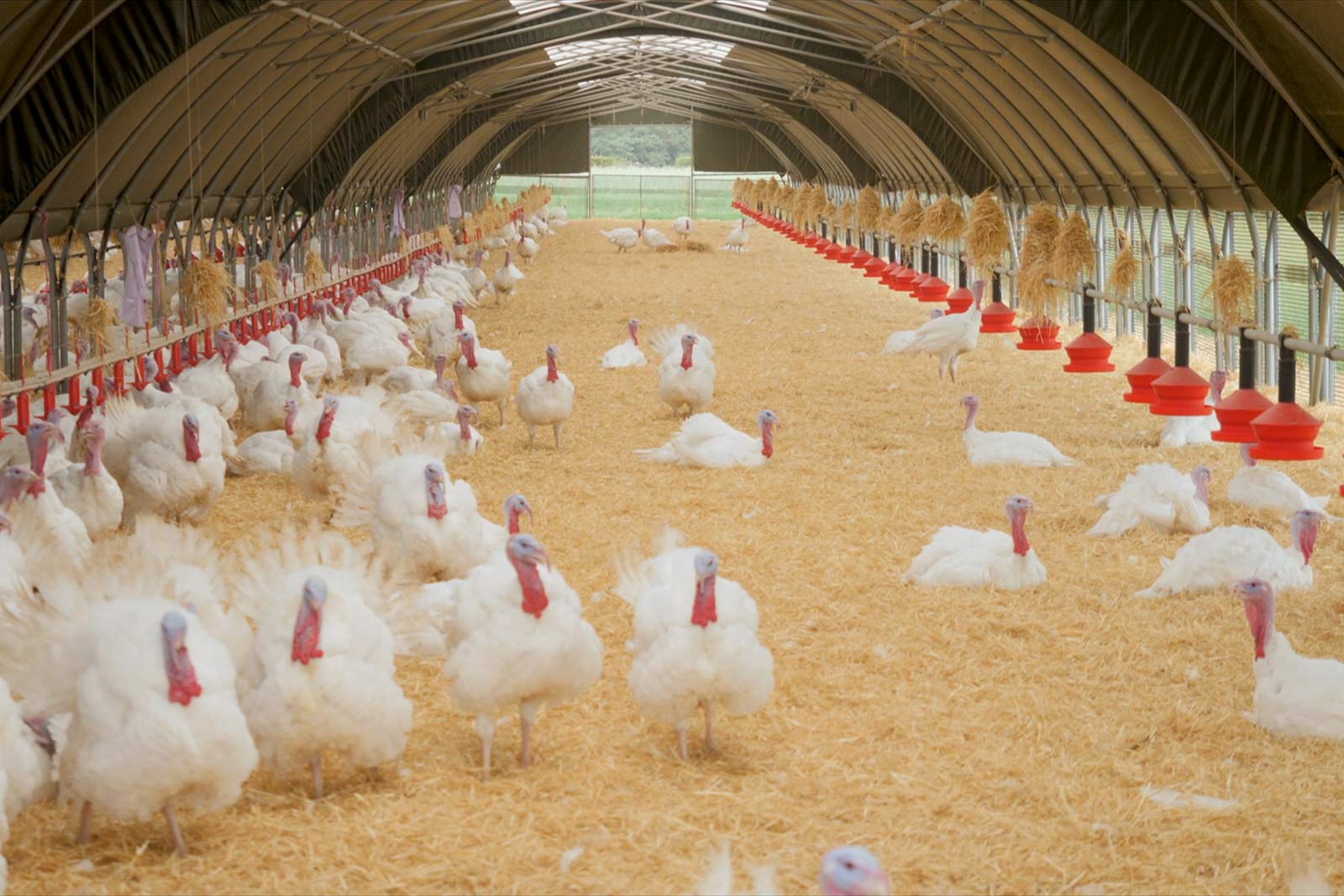 Healthy birds inside the Turkey Pop-Up tunnel
The Turkey Pop-Up tunnel at Bures Farm Partners in Norfolk
Bures Farm Partners producer of free-range Bronze Turkeys approached McGregor to provide high welfare housing for their turkeys.
Bures Farm Partners in Norfolk, renowned for modern mixed farming identified an opportunity to replace ageing agricultural buildings with more fit for purpose structures, capable of delivering the high welfare environment required for their free-range animals.
Co-founder, Jonathan Skinner contacted McGregor – keen to improve the quality of housing for his animals along with providing simple operating systems and generous access for workers to easily manage the building throughout the year. Early conversations with Jonathan highlighted the need for robust, adaptable buildings that would allow him to create the very best product for his suppliers.
Like many free-range turkey farmers in the UK, Bures Farm Partners rear the renowned Bronze turkey, rearing over 300,000 free-range turkeys for Christmas and all year round demand.
In order to secure long term investment in turkey farming, Jonathan required durable buildings that could be installed in his existing fields and moved/ expanded if necessary. The buildings would need to deliver on their high welfare promise – providing the turkeys with full access to the range, creating a spacious environment with good ventilation and diffused natural light.
We've used other buildings before but seeing a McGregor build, the strength of the steel and versatility of it, we believe it's offered a fantastic environment for our free-range bronze.
Jonathan Skinner
Bures Farm Partners
The clear solution was the McGregor Turkey Pop-Up. Employing the Turkey Pop-Up has enabled Bures Farm Partners to produce their free-range Bronze turkeys to RSPCA Assured (formerly Freedom Foods) Standards, manage expansion and work with some of the largest contract poultry suppliers/ buyers in the UK.
Jonathan joins an ever-growing list of major turkey producers housing their prized flocks in the McGregor Turkey Pop-Up: the go-to solution for housing high welfare growing birds. If you're interested in finding out more about the Turkey Pop-Up or any of our free-range housing contact us today.